Discover more from (Always) Hungry for Travel
Travel tips and stories from my career spent planning culinary tours
Over 6,000 subscribers
8 reasons I've fallen in love with Switzerland
Here's why Switzerland is a must-see destination
Over the last 31 years I've spent most of my Oldways travel time in the Mediterranean region – Turkey, Greece, Italy, Spain, Portugal, France, and Morocco – and also with a few trips to places as far flung as Mexico, Thailand, Australia, and China. Until now, Switzerland was only a place to change planes. 
I'm writing this at 35,000 feet, returning from explorations in Zurich and Bern, planning for the next Oldways culinaria in September.
Because Oldways cares deeply about cultural food traditions and authenticity, we created the Oldways Cheese Coalition (OCC) to educate and celebrate traditional and raw milk cheeses.  This is why we're planning a tour to bring cheese and food lovers to Switzerland.  We are collaborating with one of our OCC partners, Le Gruyère  AOP and cheese expert Cathy Strange on this spectacular week-long trip.
(Click here to learn more or to register.)
While there are probably many more reasons to fall in love with Switzerland, here's my take, starting with the two obvious reasons for lovers of food — cheese and chocolate.
Cheese
From childhood, we may think we know Swiss cheese because it is the cheese with the holes.  That's so far from the Swiss cheeses that the Oldways Cheese Coalition celebrates.  As Cheeses from Switzerland says, "There is one thing that Cheeses from Switzerland have in common:  character…..They are produced in line with old traditions, with locally sourced milk and great craftsmanship."
That's the old ways, to be sure. Le Gruyère AOP has a protected designation of order (AOP in French), which guarantees the authenticity of products made according to traditional know-how and in a particular place. There is so much more to learn and know, so much that is delicious and big part of Swiss cuisine.  Raclette, Fondue—classic dishes of Switzerland —all involve traditional Swiss cheeses.
We'll also have an experience of a lifetime when our group visits in September – the Désalpes.  Every September and early October, there are celebrations throughout Switzerland as cows come down the mountains from their summer Alpine grazing pastures, back to their stables.  The return is colorful; the cows are adorned with crowns, flowers and ribbons. A must-see that is probably one of those "pinch-me" moments—a moment you can't believe you're so lucky to be experiencing.
Chocolate    
As the old song goes, chocolate and Switzerland go together like love and marriage and a horse and a carriage.
Chocolate or cacao is a New World food, and was brought to Europe, post-Columbus, in the sixteenth century.  Since that time, the Swiss have been innovative in the production of chocolate. Ollie Haas, writing in Medium, calls the Swiss chocolate industry the Silicon Valley of Chocolate. Instead of Bill Gates, Steve Jobs and Larry Ellison, the names in Swiss Chocolate are just as familiar: Henri Nestle, Rudolph Lindt and Theodore Tobler. There are others less familiar and just as important, and throughout the country, it is possible to visit production facilities and chocolate shops to learn the history, and of course, taste the various creations.  
To learn and taste in September, we'll be taking a tour of chocolate shops in Bern and visiting a production facility near Zurich, and no doubt, enjoying chocolate in some form almost every day!
Regions, Language and Cuisine
I've always known that the Swiss speak four languages: German, French, Italian and Romansh, the one that no one other than the people who speak it understand (this was the description given to me by a Zurich resident I met on a boat). He explained that there are even different dialects among those who do speak Romansh, and those Romansh speakers do not necessarily even understand other dialects.
As are most cuisines around the world, Swiss cuisine is regional, and so are the spoken languages. The French region, closest to Geneva and the French border; the Italian region, closest to Italy and the Lakes District, and the remaining majority of the country, identifying as closer to Germany, have cuisines and language influenced by their borders. Based on 2020 figures, German (63%) and French (23%) are the most commonly spoken languages. 
Walking through Bern on a chocolate tour, our guide mentioned we'd just walked by one of the seven Presidents of Switzerland.  I said she must be from Geneva, as we'd heard her speaking in French as we walked by.  I was right.  (Side note:  Switzerland has no singularly elected head of government.   Instead, there are 7 members of the Federal Council or Presidents, elected by the two legislative bodies, and each of them heads a department of government and serves a one-year term as head of government. The  president is elected for a one-year term of office and is regarded during that time as 'Primus inter pares', or first among equals.).
English is everywhere as well, learned in school, along with the other languages. Not once was I stymied by the lack of German or French or Italian, and after a few days, many words or places became understandable as basic familiarity set in. 
Boat Journeys & Waterfront Scenery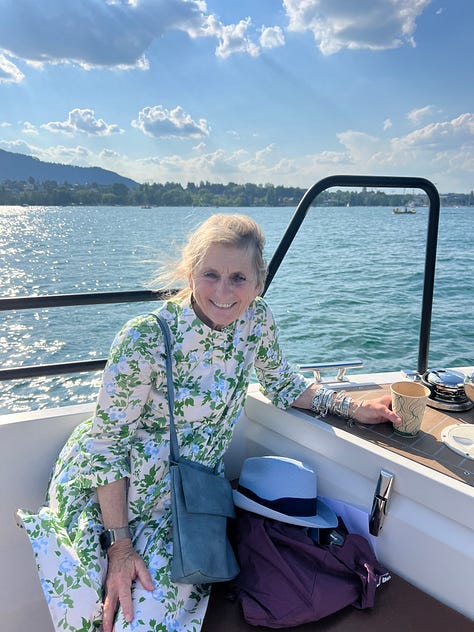 For a land-locked country, loving Switzerland's water was a surprise. I shouldn't have been surprised, for Switzerland is a land of many lakes and rivers, but my pleasure at seeing the countryside from the water was a revelation. In Zurich, boats are for tourists and locals alike, and I can only imagine that it's the same in Lausanne, Lucerne,  Geneva and other cities that hug the more than 1,500 lakes in the country. I love getting around on the water, and if that's not the easiest way, there are the amazing trains (see below).
Efficient Transportation:  Trains and Bikes
European trains are wonderful and Swiss trains are especially wonderful.  They're silky smooth and as quiet as a Tesla, plus super punctual, very clean and comfortable. The whole system is incredibly easy to manage, and strangely enough, of the five train trips I took in 3 days, I was asked for my ticket only once. In the city, there are bikes everywhere, including rentals — traditional and e-bikes.  
Apero
My first meeting after I arrived was with the food & beverage director at the Alex Lake Hotel, where the group will be in September while we're in Zurich.  It's gorgeous, right on the lake, with huge windows and breathtaking views.  We were discussing our first meal in September, and I explained we'd need a place and time for a welcome and introductions.  The director kept talking about "the apero."  I played along and finally figured out that it was how a meal or get together starts — with a plate of wonderful Swiss cheeses and meats, plus pickles and other accoutrements. (There are other options as well!) Luckily for me it was my first meeting – then I saw apero everywhere.  Delicious. 
Pastries and Bread
Walking through the arcades in the historical center of Bern, the smell of freshly baked bread was in the air.  The bread is beautiful, both white and whole grain, and is matched by the spectacular pastries that remind me of my grandmother at Christmastime.  It takes every bit of willpower not to stop at every shop, each more beautiful than the next. 
Swiss Wines
Americans rarely get the chance to try Swiss wines at home.  The reason?  The country consumes almost all the production; only 1% is exported.  There are wonderful Swiss wines produced at 1,500 wineries in the six wine regions.  A trip to Switzerland provides the opportunity to try them. 
During our Switzerland Culinaria, we will get a small immersion – visiting a winery near Gruyere, and a guided tasting of two whites and two reds during our time in Bern at Bar à Vin Berne.  We'll also enjoy the wines produced in the Italian section of Switzerland especially for the Alex Lake Hotel, and the other Swiss hotels in the Living Circle, a group of hotels that sources food and wine from its own farm.
No doubt there are many more reasons. If you haven't ever considered Switzerland, run, don't walk. Join us in September or follow our suggestions. You won't regret it.