Discover more from (Always) Hungry for Travel
Travel tips and stories from my career spent planning culinary tours
Over 6,000 subscribers
"European Summer"? Here's what I do instead
5 ideas for a spectacular immersion in European culture and food—without the craziness that we've seen in Summer 2023.
You've maybe heard horror stories about summer travel:  winding airport lines, full-to-the-brim flights with a fair number of rude passengers, wall-to-wall people trying to see Topkapi in Istanbul or hours-long wait times for tickets to climb the Acropolis with a crowd of people.  Don't even get me going about the crazy tourist who autographed Rome's Colliseum or the lady who climbed into the Trevi Fountain to fill up her water bottle. 
You have options.
With interest in traveling to Europe sky high after 2+ years of covid hibernation, you may encounter some crowds, but here are five ideas for a spectacular immersion in European culture and food without the craziness that we've seen in the Summer of 2023. 
Winter!
I know, if you live in the northern half of the U.S., you might fret about airport snow delays in the winter.  Ignore the inclination.  Traveling in December,  January or February can be really lovely. 
In December, towns and cities are bedecked for Christmas, and are irresistible.  I love seeing the festive lights and decorations in places large and small; holiday shopping abroad is fun and yields presents unlike those we find here in the U.S.  Although some restaurants are closed in January, it's always possible to find a restaurant catering to locals, which is exactly what you really want to experience.  Winterscapes are spectacularly beautiful – just different from those in the summer.  Your pocketbook will thank you too.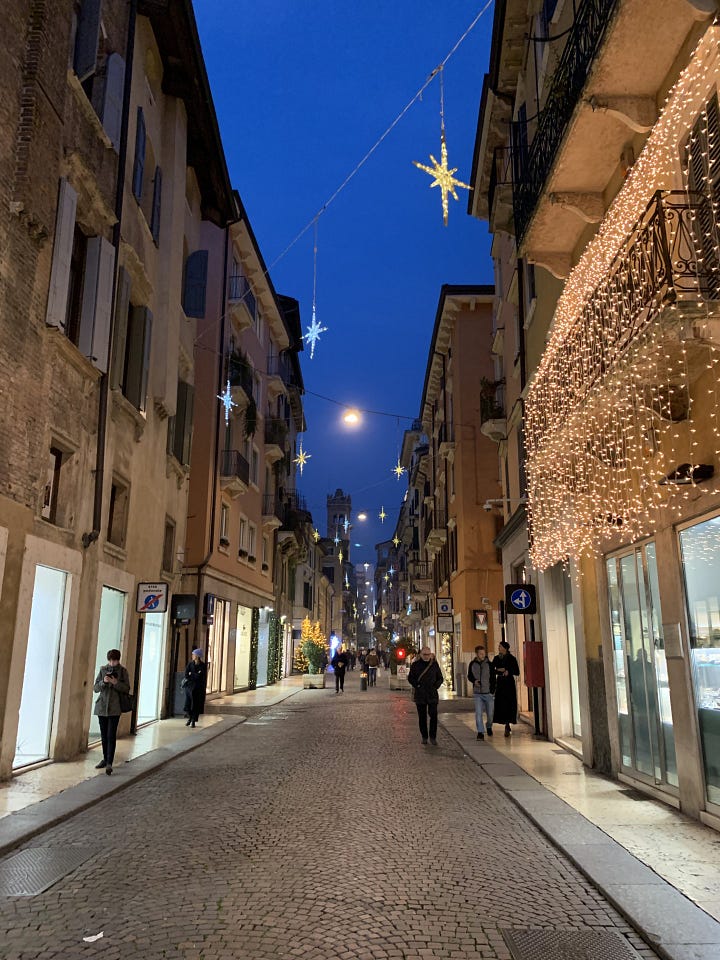 The road less traveled
Experience places outside the usual.  Instead of Venice, visit the region of Le Marche, just south of Venice on the Adriatic.  You'll discover castles and beaches, great wines, truffle festivals in the fall and beautiful countryside. 
In Greece, try spending the majority of your time in the north, including the exciting city of Thessaloniki and the surrounding wine regions.
In Turkey,  the Aegean Coast from Ayvalik to Izmir to Kusadasi has great food, is beautiful and easy to explore, and includes the world-class ancient city of Ephesus.  
The French regions of Brittany, Alsace and Aquitaine are full of history and culture, good food and wines—without the huge crowds of Paris.  It is often the same story in most countries – the U.S. included.  Try the road less traveled.  You won't regret it. 
Try group travel
You may think you don't want to travel with a group.  I stuck my nose up at group travel until I started working at Oldways in 1992, which at first included organized Symposia for large groups of journalists and chefs to learn about Mediterranean products, preparations, as well as food, culture and history fit together.  It was so much fun.   What could be better than learning from others and meeting new people who love the same things as you.?
At Oldways we now organize Culinarias – week-long culinary journeys in Mediterranean countries with like-minded people.  We make sure there's plenty of free time, so you can have a romantic dinner with your sweetie, or have a spa treatment, or just sleep in. 
Another benefit of group travel is that the organizers do all the work for you.  The tickets for the Acropolis and Topkapi are already purchased.  Restaurant reservations at great local spots are already made.  The best guides are chosen.  And—using our 30+ years of connections with people around the world—we'll get you into behind-the-scenes experiences you won't find on your own. All you need to do is sign up, relax and enjoy!
Take a look at our offerings for the Spring and Fall of 2024, and read what others say about them (scroll down on the offerings page).  You just might become a groupie!
Try a different type of travel
I have a friend who has a fabulous villa in Todi (region of Umbria in Italy) that she rents to friends and friends of friends when she and her family aren't using it.  The villa comes with a cook, who makes the most delicious meals.  You'll feel like a local.   Because they're local, they know the ins and outs of visiting tourist locations – where to go, when to go, how to go, etc. 
Alternatively, in most Mediterranean countries, farmhouses and old houses are being turned into very nice places to stay, rather than a hotel.  They're small, intimate, and the people who run them are a fountain of knowledge about how to enjoy the place you're visiting. 
In Puglia, the heel of the boot in Italy, the farmhouses are called Masserias, some so luxurious that Justin Timberlake and Jessica Biel were married in Puglia at one such Masseria.  On the Island of Chios in Greece, there are beautiful mansions turned into agroturism units. 
When we were planning our Culinaria in Chios, we stayed at Perleas more than twenty years ago. A place like Perleas quickly introduces the food and culture of the place.  Perleas, built in 1640, is characterized by natural stone from a local village and the typical Genoese architecture.  The owners are producers of spoon sweets, sweet preserves of fruit served in a spoon, a sign of hospitality.
Sign up for a cooking class program
Have you ever fallen in love with a cuisine while you were traveling— and lamented that you'd never find these dishes back home?  Sign yourself up for a cooking vacation, and you'll bring home the know-how to recreate your favorite dishes yourself!
Find a cooking class, and take a deep dive into how to make dishes and meals that your family and friends will thank you for!  These classes sometimes provide accommodations; other programs suggest nearby places to stay.  You'll visit markets to purchase fruits and vegetables; you'll probably visit producers of cheese and wine.  What's not to love? 
The moral of the story – to avoid huge summer crowds and have wonderful, intimate, local experiences – is think about what you really want.   There are other options, and they're often a lot less expensive than booking the usual big European cities.  As the founder of Oldways, Dun Gifford, used to say….let your mind be bold!
---
Upcoming Trip: Parma & Emilia Romagna, Italy
April 7-14, 2024
Learn to cook with Italian chefs—in Italy!
In April 2024, experience a week of cooking, sightseeing, and eating in beautiful Parma, often called the "gastronomic capital of Italy."
This curated, chef-led experience is hosted by us at Oldways. You'll also be led by Chef Michael Lombardi, chef and owner of SRV in Boston and Si Cara in Cambridge.
There's so much in store: through hands-on cooking lessons at Academia Barilla, you'll be immersed in Italian cuisine, and return home with recipes you'll cherish for a lifetime. Plus, throughout the tour, you'll learn how top-notch ingredients are made, through tours with producers of Parmigiano Reggiano, Prosciutto, and Aceto Balsamico.
This is the perfect trip for couples, mothers and daughters, siblings, friends—and solo travelers who want to meet new friends who love food just as much as they do.